You are now touring virtually in
KUKUP FISHING VILLAGE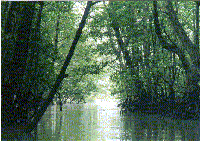 View of the famous Pulau Kukup (Kukup Island), the world's largest mangrove trees (Bakau tree) area with a total of 1,645 acres, locally known as Si Ka Pa (In Hokkien Four Square Land or The square area). The island situated right in front of the mainland and is now a protected area. Without any inhabitant, the island is occupied by poison snakes and wild boars.
Pulau Kukup is a mangrove island located at about 1 Km offshore from the mainland town of Kukup Laut, at the South-western region of the state of Johor, and towards North-west of Tanjung Piai, Peninsular Malaysia. It is a small mangrove island (approximately 647.2 ha) surrounded by mudflats (about 800 ha). The mudflats extend up to a few Kilometres on the West and Northwest of the island.
---
KukupNet © ANG CHOR CHEW
A Community Homepage Introducing History, Life and Tourists Attractions of Kukup
Created as a service to the Community by the Webmaster: Mr. Ang Chor Chew
Contact: E-mail or Telephone: 607-4241324
Former Headmaster of Ken Boon Chinese Primary School, Kukup and Present Headmaster of Chong Hwa Chinese Primary School, Rengit, Batu Pahat, Johor.

This site was created solely for the KUKUP Community, and is absolutely FREE OF CHARGE. All information published in the website are FREE and you are welcome to contact me to publish your information concerning the Kukup Community absolutely FREE.
---